Blog to go with the portraits of 'The Big Five' Utrecht artists of the 20th century in commission of the Centraal Museum Utrecht.
Part IV: Gerrit Rietveld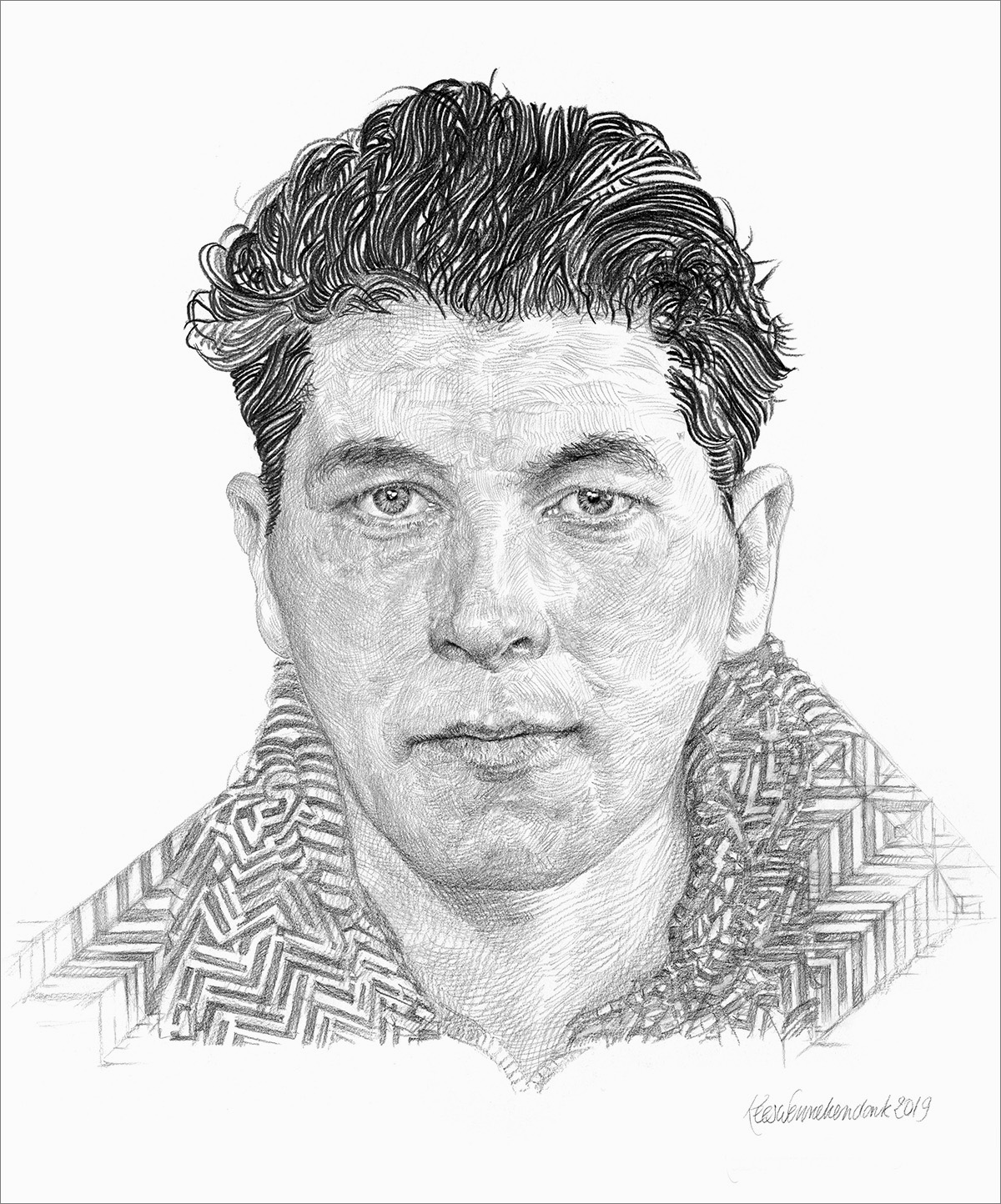 Pencil, 2019
Tipping Point

What do I know about Rietveld? Yes, seen exhibitions, seen house, seen followers, pictures of his mistress and him together.
I am thinking of something very special in shapes and colors, but a personal image? Celebrated, solid man, friendly I think. I don't really know any more than that.
To get a little more interpretation of my meager image of him, I go to his granddaughter Martine Eskes. She lives in Krommenie, in a beautiful house that is very reminiscent of Rietveld in terms of interior. Furniture and art in particular reminds of him. The house is light, transparent, just as it is in Rietveld's designs.
Retired gynecologist Eskes apologizes for my questions: she has never seen him that often. He was actually always working. They saw him 'sometimes walking through the living room'. But what I have experienced before is now also happening: because she carries Rietveld's DNA, I still get a basic feeling of how grandfather must have been. Way of doing, habits, manners, association.
When she says goodbye, she suddenly says: 'Oh yes, there is still something that was an important moment in Rietveld's life'. I prick up my ears.
(I write the following scene here, as I remembered it. All mistakes or interpretations are entirely my responsibility. Think of it as a theater dialogue.)

Scene
"Rietveld had a furniture workshop in his early years, as you undoubtedly know. He made furniture on commission there. He had also been employed by a diamond dealer for a while, because he also found it very interesting, but he nevertheless returned because of the crisis. to the workshop. He had experience with making chairs in a certain style, on commission. He had also made chairs for Parisian palaces in a Louis umpteenth style. He himself said about this: "I made them a bit firmer" because the originals often did not excel in durability and craftsmanship.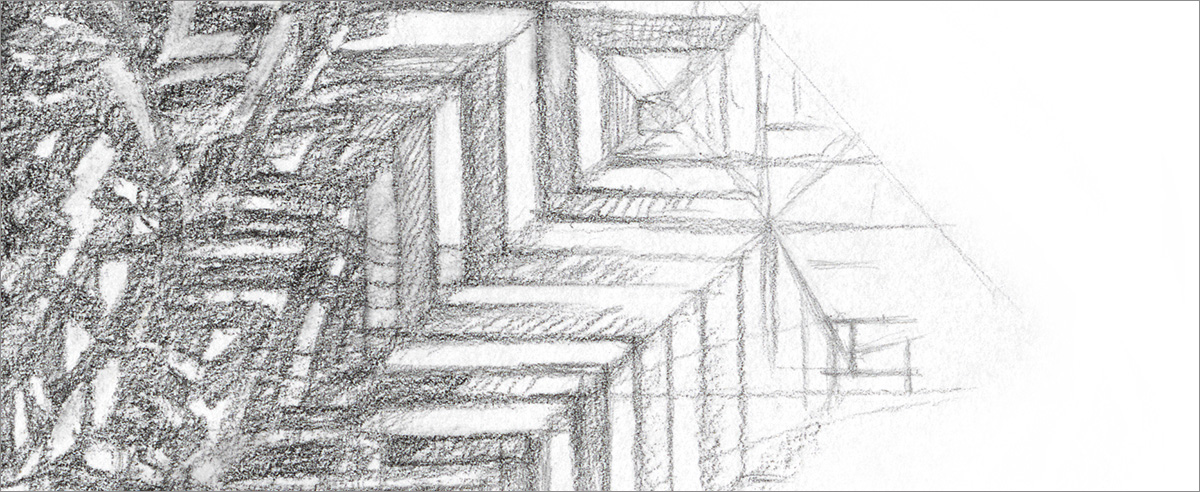 He also had an assignment for a Hague architect. A number of Frank Lloyd-Wright style chairs. That was totally hip at the time: the only thing that was built on houses during the crisis was in his style. The rich had seen his designs at the world exhibition in Brussels.
So that's where the architects got assignments: making a Frank Lloyd Wright house. Usually a summer house in the dunes or in a leafy environment. And of course, that included matching Frank Lloyd Wright chairs and tables and cabinets and everything.
The chairs were ready, so Rietveld had made an appointment with the architect, Rob van't Hof. He came to see the chairs at the appointed hour.
'Beautiful Gerrit! As always'.
"I made them a bit firmer," says Gerrit, almost apologetically.
Van 't Hof approves his hands on the chairs. Then he takes a look around the workshop. His eye falls on a somewhat hidden corner where something seems to be under a cloth and some rubbish.

' What is that'?
Rietveld is shocked. "Oh, nothing special."
Van't Hoff continues. It confuses Rietveld. His first seat is hidden under that blanket. A brown one. It has been years since he made it. No one had seen bread in it, no one wanted to buy it. They thought he was strange, out of date. Maybe just crazy. And that frightened Rietveld. At one point, he even began to fear that he was going crazy. He had seen his grandfather suffer from mental illness, and recently his sister also suffered the same fate. a family ailment. And now he had been thinking for a while that he was going crazy: that which he designed and made, and that his best idea, which sprang from his mind entirely through his environment, found no connection at all.
And that is why he had also reconciled himself to the idea that he would continue to make furniture on commission, and that the chair had better be hidden.
"No, let's see, I'm just curious," said the Van't Hoff, and went to the corner.
- Um, well ...
Van 't Hoff removed the rubbish and cloth and looked at the chair that came from underneath. Gerrit had stopped. The architect examined the chair carefully. Put his hand on it, walked around it, got down on his knees, and paused. Then he turned and looked straight at Rietveld. The cabinet maker feared what was to come.
"Gerrit," said Rob, pausing for a moment. And then he spoke the words that would change the life of young Rietveld forever:
"You're one of us!"
Rob van 't Hoff was now a member of De Stijl, and Gerrit knew that all too well. So the impact of these words must have had a huge impact on him. At one moment Gerrit made furniture of someone else's design from a kind of double self-preservation, and was afraid that he had the same family illness as his grandfather and his sister, the next moment he looked at a future in which he was included in one of the main art movements of the Netherlands.

***

The granddaughter was already in the doorway. We politely said good-bye, but still a bit distant farewell. But I knew I had a special start for a portrait. This tipping point.


Jan Cremer, James Dean, Herman Brood, Marco Bakker



For the choice of the photo to use for the portrait, I am therefore looking for one from about that time, to show that Gerrit. I find a small one, a very very small one, in the archives of the Centraal Museum. He looks tough. The photo is old-fashioned blurry. That means it can't be such a detailed drawing. In the course of a week I therefore make several sketches, studies of hair, tin, house and coat. Also one by heart, purely by feeling.
I want to draw someone with a look that has suddenly found its way, confident, young, cheeky. Somewhere between Jan Cremer, James Dean and a young Marco Bakker. With cool shiny hair. In his beautiful wool herringbone coat. That eventually became this. He differs slightly from the other four, but yes, Gerrit Rietveld did that anyway.
P.S. Somewhere in the drawing, the first seat is hidden.




Kees Wennekendonk
Utrecht, june 24th, 2020

Made possible thanks to financing by the Friends of the Central Museum Utrecht. There to be seen until august 2nd 2020, next to my portraits of the great
Pyke Koch, Peter Vos, Joop Moesman and Dick Bruna
.
Expo 6, 1st floor.